SELMER CONCERT ORGAN

I am happy to share details on the restoration of the Selmer Concert organ. Links provided to the Selmer Concert service manual, and the earlier Selmer Lincoln service manual, and some general informative articles relating to electronic organs. I also have a more detailed design doc and other details on the Concert organ.

Visit the Selmer Amplifier website - this website has a fantastic compendium and history of all things Selmer - highly recommended.



Selmer Concert Organ Type 'B' Service Manual - transcribed version for Concert type 'B' and Minster type 'C' and 'CC' - manufactured from 1957.

Photo of later version Concert organ with separated amplifier and power supply chassis, using KT88 PP amplifier.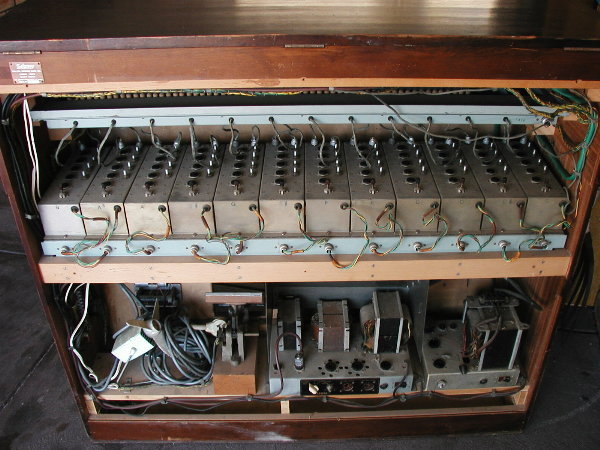 The Concert, and its ecclesiastical brother the Minster model, are believed to be Selmer's last in-house organs. Selmer transitioned to Clavioline keyboards and Lowrey organs in the 1960's.

Selmer preceeded the Concert model with the Theatre model and its ecclesiatical brother the Lincoln model - Robert Quayle prepared this scan of a transcribed Selmer Lincoln Organ Service Manual Manufactured from circa 1954, notes on the Lincoln organ along with photos by Robert Quayle are here. Apparently Selmer started organ manufacture circa 1951, so there should be an earlier Selmer organ model before the Lincoln and Theatre models of 1954.


'Electronic Music' by Hugh Le Caine, 1956 Proc IRE. - a great summary of the times relating music to electronics, including pictures of the Robb Wave Organ, the Electrone, the Melochord, the Electronic Monochord, and the Phonogene.


'Electronic Musical Instruments and the Development of the Pipeless Organ' by G.T. Winch and A.M. Midgley, 1940 Jour. IEE. - a detailed insight into early attempts at electronic music generation - were talking serious mechanical efforts!.


'Electronic Organs' by T.G Flynn, Dec 1954 Students Quarterly Journal. - a briefer paper with good summaries of tone generators, the Hammond organ, and the Compton Electrone.


Coupleaux and Givelet must have had an exciting time as they developed ways to generate and control electronic notes in the late 1920's and early 1930's. They were able to install many imposing organs, such as at Villemomble in 1931, although the maintenance must have been horrendous with valve numbers in the many 100's. Their 1930 patent discloses the many, if not crude, techniques to generate and couple tones to speakers, and ways to change the timbre (including controlled speaker distortion) and vibrato (such as by mechanically vibrating core parts in an inductor). Meissner's 1936 discussion on electronic instruments illustrates the dramatic growth in interest and developments and patents at the turn of the 20's decade.
Update: 12th May 2015
Email tim for comments/details
Back to Projects Page