McPHERSON TWIN CHANNEL 60W INSTRUMENT AMPLIFIER

I am happy to share details on the restoration of McPherson amps. Links provided to schematics, photos and info doc for this amp, plus info on the standard MARK IV amplifier made by McPhersons.

Keith McPherson ran HI-FI & MUSIC CENTRE at 205 Dorset Rd Boronia from circa 1963 to 1972 with his son Ron. Early amps and speaker cabs were covered in a Blue tolex, changing to black tolex (as used for car roofs) circa 1965 when they ran out of blue. The amps were sold to local bands, such as 'Two by 2', and hired to the growing number of dances at local halls (prior to the days of pub venues).

The amp is dated inside the box with JULY 1964, and is known to be the one and only prototype made before the standard version. The phase inverter and output stage are almost an exact copy of the Dynaco Mk3 amplifier.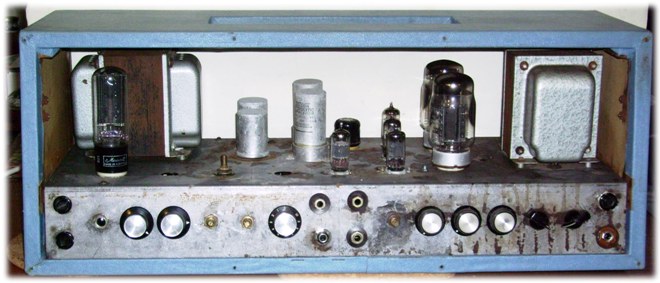 Schematics of 'as found' amp
Photo of front - no panel
Photo of front - with panel
Photo of rear
Photo of side
Photo of underside
Detailed information document
McPHERSON MARK IV AMPLIFIER

Links are for details on a restoration of one amplifier. This amp was the only type made by McPhersons. It is based on a 55W medium-fi A&R output transformer, and includes a copy of the tremolo stage presented in Electronics Australian in August 1964. Noticeable changes made over the years of manufacture were rounded cabinet edges, nickel plated chassis, and silver skirted knobs instead of black fluted knobs with a white marking. The unique handles were purchased from the hardware store nearby.


McPherson Amplifier MARK IV - schematic and photos.
McPherson Amplifier MARK IV - modified schematic.
McPherson Amplifier MARK IV - detailed information on restoration.

Update: 30th March 2011
Email tim for comments/details.
Back to Projects Page