Leggett History in Berrimal

The Leggett family appear to have settled in Berrimal about 1881, with the three boys aged 8, 11, and 17, and the parents aged about 50. The family photo on the home page is circa 1882. The "Berrimal - 1985 Reunion and Church Centenary" booklet provides a substantial history of the area, and indicates that the Leggetts arrived at the time of greatest influx of land selectors to the area. "In 1882 the first church service was held at the Leggett home (where Mr. & Mrs. Jim Poole now live) and it was in the years following that the first church was built in 1885 on the Benjamin Ross property 1 1/2 miles north-west of the Leggett home." In the period 1882-1885, monthly church services at the Leggett house increased to fortnightly as more folk arrived.

It appears that at least the youngest child William James attended the Kurraca West and Berrimal School No. 2073, which started in late 1881, moving to new premises in early 1883 and named State School 2403 Berrimal. A December 1882 petition for the new Berrimal school premises was signed by Henry Leggett.

The three boys all married around the same time: John Henry married Emma Groom in 1892, William James married Mary Mason in 1892, and Henry Edward married Mabel Groom in 1894. Their mother Ruth died 1897. Edward Henry is listed on the Electoral Rolls as farmer from Berrimal in the 1903, 1905, 1907, and 1909, prior to his death in October 1911.

Of interest is that the family raised Sarah Douglas as a child along with their children (see photo on home page). Sarah was born 1864 at Carisbrook to parents William Douglass & Susan Chesney, who had married in 1853 and had 7 children, however Sarah's mother died in 1875. Sarah married James Henry Polkinghorne in 1898, after James' first wife Amelia Thomas had died in 1898 leaving 7 children.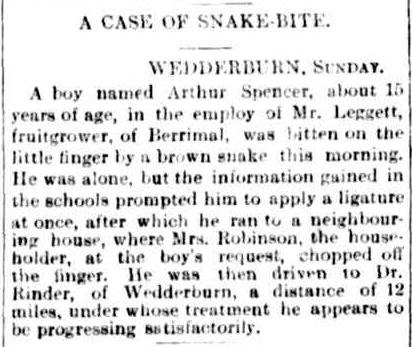 The article above illustrates the hardship faced in the countryside. Snake-bite was a prominent cause of death in the country, especially for children.

A 1942 Lands Department map from The State Library of the Berrimal area, with original land owners shown, is available by email (900kB TIF file). A list of the names on the map is here.

A map of the towns surrounding Berrimal is here.