This trek was organised by Australian Himalayan Expeditions. The trek officially started in Dehli on Saturday 14 July at the 5 star Ashok Hotel (Russ and I had previously stayed in 1 star accommodation - the 1 star was for the ceiling fan - whilst roaming around Dehli for 3 days as a cultural warm-up). We walked up the main drive of the Ashok in shabby attire lugging our backpacks, to be greeted by the spic-and-span head porter. Once inside, we lapped up the pool, clean room with shower, and restaurant dining - and had the day to shop in Dehli with Dave & Val from our treking group. Next day we flew to Srinagar (no knives allowed on plane - security and tension was evident with Kashmir) and settled into the houseboat Maharaja's Palace to meet Ishey Namgyal our guide, and Gary Weare the trek supervisor. 4 days sightseeing around Srinagar included a carpet factory, wood carving, shikhara rides on lake, travelling sales from suit makers and spice merchants, and a day trip to Gulmarg to check the skiing conditions, with a hike to 3,650m. This was not the normal way to start the trek, as AHE were vacillating over whether to start the trek due to low numbers (only 5 paying clients).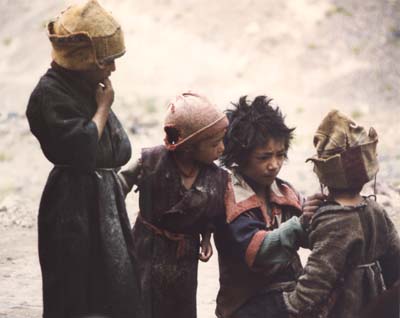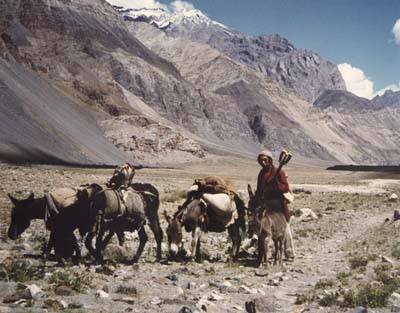 Friday we bussed to Kargil with lunch at Sonamarg, staying at the Caravan Sarai (moins Santana music) - next day to Leh, with lunch at Lamayuru and a visit to the temple. Then two days acclimatisation in Leh exploring the town, bazaars, Sankar Gompa, Leh palace, Stok summer palace, museum, Hemis gompa (Thikse was closed), and watching a horse polo game. The military presence of long truck convoys along the road to Leh was very obvious.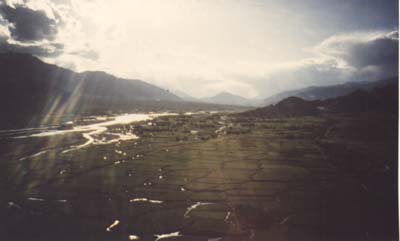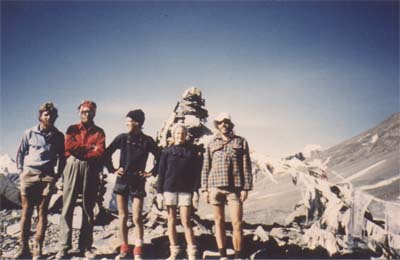 On Tuesday 24th July we travelled by jeep to Lamayuru (3600m), staying overnight in a dorm. Our trek group consisted of 5 trekkers, guide, cook and cook's assistant, pony man and 3 ponies. Next day we started our trek early, going over Prinkiti La (3726m) and camping (2835m) below Shilakong at the end of a sunny day. 26th a sunny day - past Shilakong over Nigutse La (Russ got a migraine) and camped (4575m) on Spang River. Over Shilshi La and onto Photoksar (4550m), watching the antics of marmots, chatting with locals and enjoying some chang playing cards. Cold raining slog along valley to Singi La (5100m) - past a tea/chi shop - Russ with another migraine over the La - camped near goats (4590m). Rainy day over Kupala, Skimpata La, lunch at Lingshed - visit gompa - over Chapskana La and camped at 4065m. 30th a cloudy day - over Haluma La (4800m) then lunch at Neche chi tent, end of valley looks fantastic, some remnant ice bridges, camping over the bridge at Nigutse (3445m). Partly cloudy day - over Parfi La, through Hanamur to Pidmu (3500m) - a chance to wash and a buck goat was bought.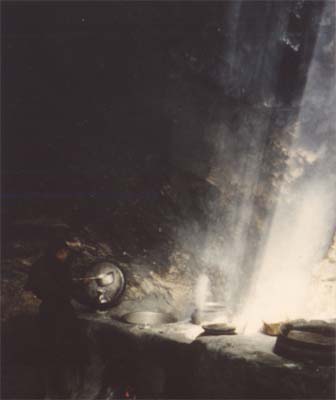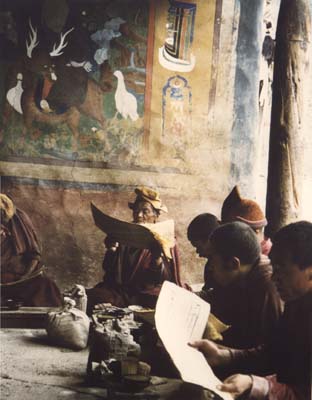 Wednesday 1st August - sunny 3hr to Pishu (3530m), with a 4.5 hr side trip to Zangla over steeled rope bridge - King not taking audiences - Russ cuts the throat of our friendly goat as the crew are not allowed by religion. Visited Karcha gompa, camping on the flat near the raft. Raft crossing a bit wet, then enjoyed Padum chai shop, visited tourist office, but carefully watched our valuables. 4th - road walk to Bardan gompa, then Mune and Reru, looking at flour being ground from a water-powered wheel. Lunch across bridge, looked at Ichar, camping at stream near crowded Bipula. Through Tsetang, Surle, to Zamthang with a rope bridge and a dip in the river. Up early for hairy walk to Phuktal monestry (quite a tourist trap) - salt and butter chai and tsampa are not very tasty to the western palate. Through Testa, Kuru, crossing bridge with lunch before Kargyak (a nice village) - camped on other side of Kargyak by a side stream. Towards Gombo Rangjon Hill with hairy river crossing - our donkey Jake learns to swim and my camera takes a dip - camping at Lhakhang. Easy accent to Shingo La with a nice lake - glaciers under foot are a surprise - luxury returns at the Sumdo chai shop - Russ ropes into gorge for a photo shoot - stormy night. Saturday 11th we took a horse ride over the creek then a non-descript valley turns into a fantastic gorge at Palamo and green fields - storm rages up the valley. 12th - road plod into Darsha - and finally some yummy food (we ran out of eggs and fruit halfway into the trek, then milk and coffee, with most items on half ration for the last third of trip). Up early to catch the long (9.5 hr) public bus ride to Manali and a return to big meals, fresh fruit, rampant marijuana growing as a weed, a few Europeans who had long outstayed their visas, and hot sulphur baths.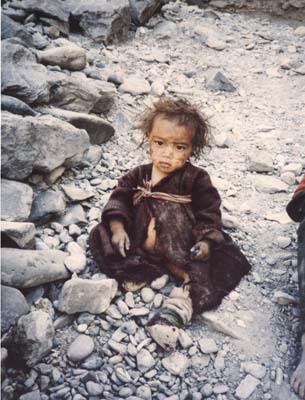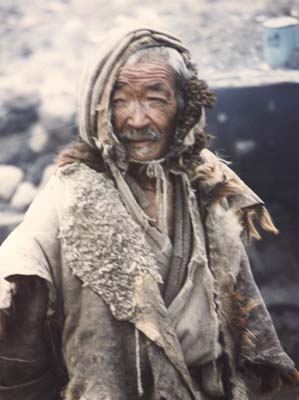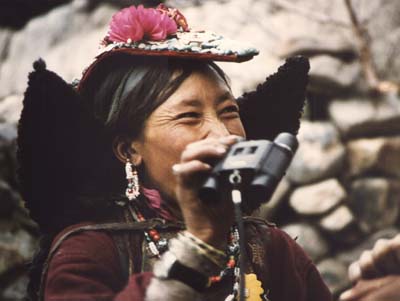 Other trek sites I visited whilst preparing this page:
http://www.fys.kuleuven.ac.be/iks/lisol/personal/karen/ladakh.htm
http://www.hut.fi/~jlavi/buddhism/trek/
http://user.tninet.se/~ipg289h/fu99/Trekking/Treks.html
http://www.primeindia.com/manav/tour12.html
http://www.geocities.com/TheTropics/Reef/2980/Paddum_to_Lamayuru_Trek.html
http://www.spiritualguides.net/Indiastate/ladakh/zanskar.htm
http://www.instantweb.com/p/peterowens/LdkhZnskr.htm
http://www.tarrdaniel.150m.com/tibet.htm

Updated: 6 July 2003