AUSTRALIAN WILLIAMSON AMPLIFIER SYSTEM

I am happy to share details on the restoration of this Williamson amplifier with control unit from Australia. Links are also provided to a compendium of Williamson amplifier articles.

The Williamson amplifier abruptly garnered widespread interest with the technical community in England, Australia and USA in 1947-1949 through articles in the Wireless World magazine, and possibly was the most updated amplifier design of its time. It effectively spearheaded a significant boost in amplifier performance that coincided with speaker and recording improvements to meet a growing post-war appreciation and demand for hi-fi reproduction. In Britain, the hi-fi manufacturers Rodgers, Goodsell, E.M.G. and Expert put Williamson amplifier designs at the top of their product range, and Pilot Radio, Radio Craftsmen, Sun Radio, Harvey Radio, Heathkit, Knight, and Pedersen made versions in USA, and Electrohome in Canada, with manufacturers like Grommes making more substantial changes to the circuit. Australia however didn't seem to have a widespread commercial uptake, although initial technical interest was high and a number of kit and part makers supported the amplifier.

This Australian amplifier is commercially made, but unbranded, and appears to be from circa 1952-3. It uses the 1949 'new' version of the Williamson circuit, with a few practical but subtle changes. The control unit has the typical preamp layout of the time, with switched bass and treble settings, and the LP, 78A, and 78B compensation settings for the records of the time.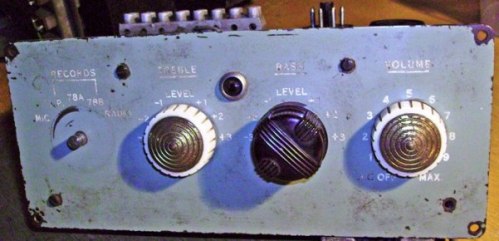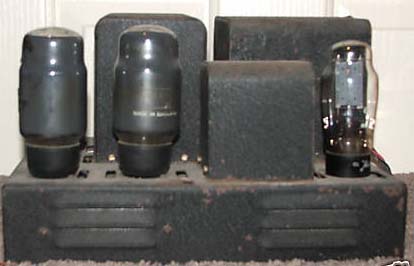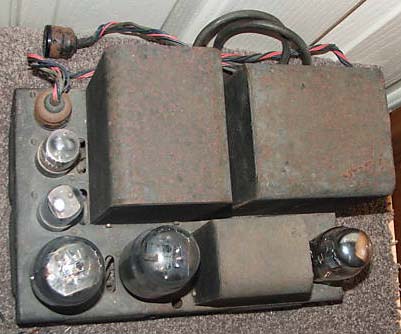 Williamson amplifier restoration information - specific to the pictured amplifier system.

Links to a compendium of articles related to the Williamson amplifier.

Douglas Self has scanned the original Wireless World April and May 1947 articles by Williamson. The Australasian Radio World monthly magazine reprinted the WW April and May 1947 articles in their August 1947 issue.

The Williamson Amplifier - the Wireless World compendium of Williamson articles from April 1947 to May 1952.

1947 A515 article in Australia's Radiotronics No.128 - published just 6 months after the original Wireless World article - the amp results used 6SN7's and 807's, and a Goodmans transformer they just happened to have available. "Intermodulation Measurements on Radiotron Amplifier A515" - more results in following issue of Radiotronics No.130. And it's not surprising that Langford-Smith and Aston were quick to check out Williamson's design given the work they had been doing on amplfier design at the time.

Kevin Chant's website has a scan of the December 1947 advert in Australasian Radio World by Redline for a transformer and choke set suitable for the Williamson amplifier. There is also a news article from the February 1948 issue describing the 'stir in hi-fi circles' that the Williamson amplifier had caused, and indicated a few enthusiasts had built the amp.

Reprint of the Radiotronics A515 article - in January 1948 Australia's Radio & Hobbies magazine.
RedLine Transformer advert in Dec 1947 for AF10.
Ferguson Transformer advert for OP25 in February.

Triode-connected 807 Amplifier - Radio & Hobbies March 1948 article, headlined as the Amplifier to End Amplifiers. Ferguson Transformer advert for OP25.
Partridge WWFP details.
Novel 12W amplifier - Jan 1949 Radio-Electronics adaption of R&H article.
Electrosound Model RW amplifier advert in July 1949.

August 1949, Radio-Electronics - A High-Fidelity Tuner-Amplifier, Part 2, pp 38-40, by M. Harvey Gernsback. Follows on from their January snip of the R&H amp circuit, and integrates it with a tuner and preamp. Part 1 (July) and Part 2 link.

"Musician's Amplifier", Sarser & Sprinkle, Audio Engineering, November 1949. - linked from Dennis Grimwood's webpage discussing this improved version of the Williamson circuit.

Building the "Williamson" Amplifier - Radio & Television News, 1950 article.

"Williamson" type amplifier using 6A5's, by J.H.Beaumont, Audio Engineering, October 1950.

Goodsell made the GW-12 and GW-18 amplifiers - product info and photos from ebay. A photo compilation of a Rodgers amplifier, and a photo of a clean Rodgers amp.

UTC United Transformer Company 1951 catalog - description of their finest Output Transformers suitable for Williamson amp, including their W-10 and W-20 kit amplifiers with performance response.

Stancor Transformers brochure, and here - for their Williamson amplifier module using the A-8054 OT.

Commercial custom built "Williamson" Amplifier - AE-60.

High-Fidelty Fall 1951 magazine has numerous references and adverts for the Williamson amplifier design. Link.

Radio Craftsmen introduced the C500 amp in late 1951. Charlie Kittleson wrote a summary article in 2003 on the C500 amp and its upgrades in Vacuum Tube Valley Issue 19.

In November 1951 the dutch Radio Bulletin magazine presented an article on the Williamson to its readers. The initial paragraph translates as "It is certainly interesting for the RB reader who has no access to foreign journals to appreciate the field of modern quality amps around the world even before they are for sale. In recent years in particular a design has acquired great renown: the "Williamson". The first publication in "Wireless World" dates from April '47 and is the work of D. T. N. Williamson, which is connected to the Ferranti factories. The best proof of the extraordinary qualities of this design is probably the fact that in America there is a growing demand for the material produced by the English factories, according to the Williamson specification!"

Audio Facts, PF Index and Technical Digest, Jan-Feb 1952. Discussion of amplifier.

Heathkit introduced the W1-A1 amp in 1952. W1 photo by Pete Basel. Charlie Kittleson wrote a summary article in 1995 on the Heathkit range in Vacuum Tube Valley Issue 2. Heathkit's W-2 first update in 1953.

Harvey Radio advert from Feb 1952 AUDIO ENGINEERING for HR-15 kit amplifier.

Pilot Radio introduced Pilotone amplifiers (eg. AA-901) in 1952. Product brochure from 1952. Another product brochure from 1952.

Pedersen Electronics had the W-15 amplifier.Product brochure. Photo from ebay.

Electrohome had the W-15 amplifier. www.canuckaudiomart.com forum post. Ebay photos and circuit.

"Ultra-Linear Operation of the Williamson Amplifier" by Hafler & Keroes, Audio Engineering, June 1952.

"Gilding the Lily", Sarser & Sprinkle, Audio Engineering, July 1952. - ultra-linear version of the Williamson circuit - plus response by Hafler & Keroes.

"The 'Williamson Type' Amplifier Brought Up to Date" by M. V. Kiebert - August 1952, Audio Engineering. An update of an update of an update - an important insight in to practical noise and distortion improvements. Hal Layer built his Williamson amp back in 1959 based on this article - great pictures.

"Improving the Williamson Amplifier" by Hafler and Kereos, Radio & Television News, February 1953 .

UTC W-20 Williamson Amplifier Kit - Audio Engineering magazine 1953 technical report.

Laboratory Tests of some of the popular audio amplifiers, T.O. Dixon, April 29, 1953 - NRL Report 4136. A summary of frequency response tests using a wide variety of Williamson style commercial amplifiers and output transformers made for Williamson style circuits.

"The Williamson Amplifier - A Modified Design" by Robert B. Dunham, PF Index and Technical Digest, February 1954.

System Design Factors for Audio Amplifiers, Kiebert & Mallory - IRE National Convention, 1954. Assessment of further improvements to Williamson design.

Stancor Ultra-linear Williamson High Fidelity Amplifier using Stancor Ultra-linear Transformer A-8072 - 1954 brochure, which indicates over 7,000 of the standard (non-UL) Stancor Williamson amplifiers had been sold.

Sept 1954, Audio - Versatile control unit for the Williamson, pp 19-21,78, by Charles R. Miller. The control unit may be a good design, but the valve heaters are powerd from the Williamson output stage common cathode, to which they have foolishly added a bypass electrolytic capacitor. Link.

High-power Williamson amplifier for Hi-Fi, by David Hafler - Radio-Electronics magazine 1955 technical article.

Adapting the "Ultra-Linear" WIlliamson to 6550 Operation, by Keroes - Radio & Television News, Nov 1955.

A 100-Watt Power Amlifier, by A.K. Olson - Radio & Television News, Nov 1955.

Heathkit W5M Amplifier Kit - detailed 1955 kit assembly and operation booklet, but no recognition of Williamson.

Heathkit "Williamson Type" W3M Amplifier Kit - detailed 1955 kit assembly and operation booklet.

Heathkit "Williamson Type" Amplifier Kit - detailed 1958 kit assembly and operation booklet.

Heath Williamson Kit amplifier advert, and installation article for preamp and amp.

Dynaco reprint of the Audiocraft 1956 "Modernize your Williamson" by David Hafler.

"High Fidelity Power Amplifiers" by Marshall - Radio-Electronics, May 1956.

Improving the Williamson Amplifier - Electronics World 1961 article.

Bert van der Kerk's webpage - detailed guide to the circuit design.

Keith Snook's webpage - detailed schematic guides.

Great photos of amplifier parts and magazine extracts.

Dennis Grimwood's informative insight on the amplifier design.

The Williamson Amplifier History, by P.R. Stinson - an amazingly in-depth and well compiled 1991 biographical account of the background, development and fortunes of the Williamson design. Efforts to identify P.R. Stinson have not yet been successful, and making this document public will hopefully assist that effort and be consistent with the intent of the article.

WIlliamson went on to design the Ferranti Ribbon pickup and be a key contributor to the original QUAD electrostatic speaker, and then moved to other areas - the sum of scientific excellence recognized by his election as a Fellow of the Royal Society in 1968.